Cities of Death - Imperial City Box Set
Box cover and contents.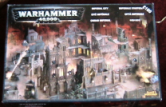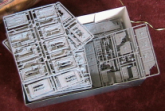 2 Manufactorum Srues and 2 Floors & Extras Sprues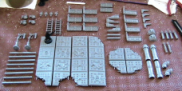 Closeups of some of the peices from the 4 sprues used so far
For scale, the box used for these peices is A Chimera Tank Box Lid and the mini is a Vostroyan Trooper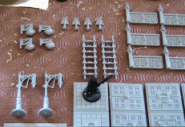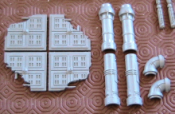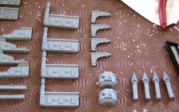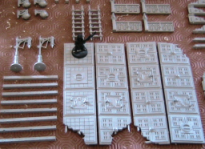 6 x BASILICA ADMINISTRATUM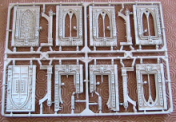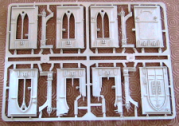 8 x SANCTUM IMPERIALIS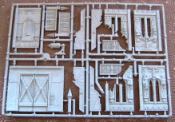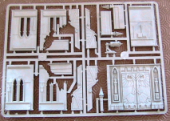 6 x MANUFACTORUM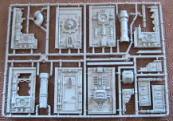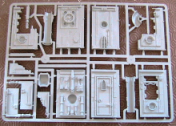 8 x "FLOORS & EXTRAS"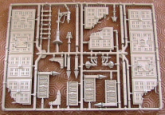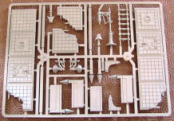 Cities of Death Imperial City Box Set.

So what do you get for your £100, simply put you get a tone of plastic, this has to be the heaviest box I have had from GW, not surprising when you see the size of the wall and floor sections.

Generally the wall sections measure 47x80x2(5)mm WHD, the depth (thickness) of the walls are 2mm with a 5mm beam down the left side which has 2 very small (1mm) tags down the side for assembly reasons and a 5mm base, again for assembly reasons.

The walls themselves have designs that are generally thicker than 5mm, one piece is roughly 17mm front – back but with the second piece to this wall section added it measures almost 30mm front – back, this wall section has a kind of boiler on it and comes in 2 pieces.

I can't comment on assembly atm as I have not put anything together, but looking at it there shouldn't be any problems apart from some of the sections being warped, this is probably due to the weight in the box, but with glue and a tight grip I can't see this being a major problem.

These wall sections are a painters dream (or nightmare), the detail is amazing, from the huge skull on one of the Manufactorum wall sections to the window full of skulls on one of the Basilica Administratum sections, its just amazing and really does need to be seen in person to appreciate it.

The floor sections are also just as cool measuring 46mm square and 5mm thick with a 3mm lip, the really good thing that GW have done with the floor tiles is to have a long 4 tile strip that you can cut to size, this 4 tile strip can be used as is and will probably make the Bleeped text structure stronger, ore you can cut these into separate floor tiles and give your floors an uneven look to them.

EXTRAS:

As well as the Wall & Floor sections GW has also included some nice extras, including ladders, hanging lamps and street lamps. There again are of the same quality and really to add endless possibilities to what can be done. The only problem I have with the set so far is that each Floors and Extras sprue only has 1 ladder which if you are going to add a ladder between every floor level it will prove imposable, lets just hope GW release these sprues separately.

Each Floors and Extras sprue has 2 x 4 floor tile strips and 2 x 1 single floor tiles, the 2 single tiles and 1 each of the strips are floor ruin tiles. That's 10 floor tiles in total per sprue and 80 for the whole box, which if used well is more than enough for your city needs, but if GW does release this sprue on its own then the extra tiles will come in handy if you plan to completely floor your designs.

WALL SECTION COUNTS:

MANUFACTORUM: 5 complete wall sections, 2 ruin sections per sprue, that's 42 in total.

SANCTUM IMPERIALIS: 3 complete wall sections, 2 ruin sections and 1 double door section (94mm wide) per sprue, that's 48 in total (56 if you count the doors as 2 sections)

BASILICA ADMINISTRATUM: 6 complete wall sections, 2 ruin sections per sprue, that's 48 in total.

Altogether that's 138 (146) wall sections, its also a single wall 686.2cm (22.51308ft) long or a single wall 1,104cm (36.22040ft) high.

OTHER GOODIES:

The MANUFACTORUM sprue also comes with 3 pipe sections, unfortunately these are only halves and you will need to use 2 sprues for 1 set which only gives you 3 full pipe/chimney sections (2 straight, 1 bend). I don't think this is GW's fault as space on the sprue is tight, better to give piece options rather than quantity. Still, 3 sections could be used well as joining pipes between buildings rather than used as chimney, you could also use 2 of those boiler sections to extend the pipe, and it would also make the pipe look cool as the boiler sections have controls on them.

On the SANCTUM IMPERIALIS & BASILICA ADMINISTRATUM there are external wall supports/details which attach to the 5mm beam on the left side of each wall section, there are 4 of each type per sprue giving 32 supports for the SANCTUM IMPERIALIS and 24 for the BASILICA ADMINISTRATUM buildings.

Also on the SANCTUM IMPERIALIS, MANUFACTORUM and the FLOORS & EXTRAS sprues you get low wall sections, these measure 20mm high and can be used as balconies, stand alone walls or even corner sections to define boundaries to buildings (see below). In all you get 4 per spure, 88 in total.

MISC EXTRAS:

24 Hanging Lamps, 8 Street Lamps, 16 Balcony/Floor Detailed Supports, 16 wall decorations, 32 Low Wall Ends/Supports and 8 Ladders.

————————————————————

So how far have I got so far? Well, not far really as there is an awful lot of plastic to clean (2 sprues of wall tiles so far), but I have designed a good system for designing my first playing board which will be just a little over 6' x 4'.

Basically I have divided the whole board up into 1014 47mm square blocks which works out at 26x39, then on graph paper plot out the building floor plans and any other details that are needed using a separate sheet of graph paper for each floor.

I have only done rough sketches so far but will include them on the website when I convert them to an excel worksheet and converted that to html.

I might even do a step by step for a complete building depending on time (Open Uni Degree course still to do) and also if I decide not to do my Vostroyans with step by step.

This is the see below section ;) about low wall building corners.

I have seen in a few forums people complaining about GW not supplying enough wall sections to build COMPLETE building and instead expecting the builder to use only 1 or 2 corners with full wall sections and the 3rd & 4th corners to use the low level walls to OUTLINE the rest of the building.

Now I for one can see a problem with making your building completley of full wall sections especialy if your wanting a multiple floor building, the problem is how on earth are you going to get minis in and out of it without desturbing other minis within it, better to use only 1 or 2 corners (on a 4 corner building). That way it makes for easy access and its even keeping the RUINED theme. Hell, next you will ask for a roof, saying that its a shame GW didmt design ruined/collapsed roof sections.

Well, that's it for now, so much for being a short review. If there is anything else you would like to know about the set just let me know and I will do my best to answer.

Thanks for reading,

VeggieManUK (Robert Kelly).